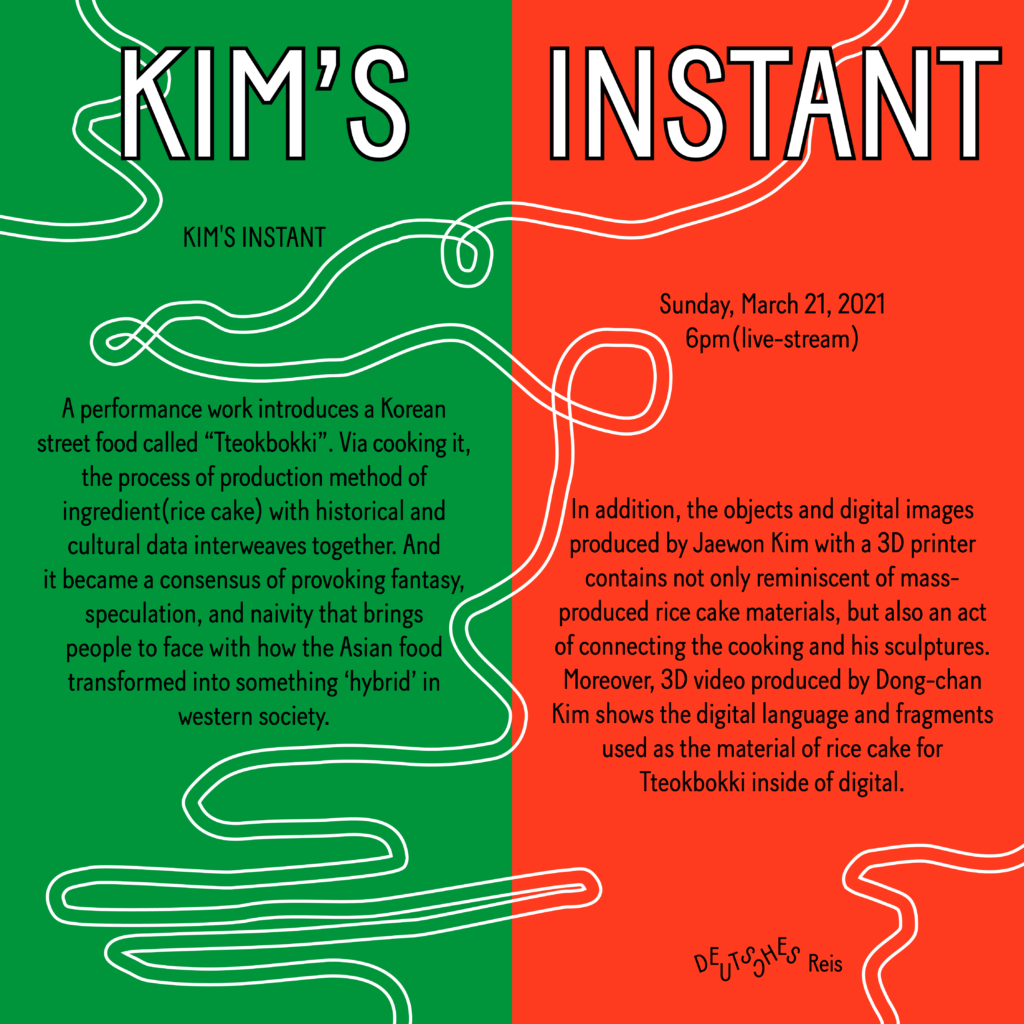 Kim's Instant
21.3.2021 / um 18Uhr
Jaewon Kim (* 1987 Seoul in South Korea, lives in Hamburg)
Jaewon Kim was born in Seoul, South Korea, in 1987. After studying photography at the Seoul Institute of the Arts, and currently he is studying at the Hamburg University of Fine Arts with Thomas Demand, Ceal Floyer, Yorgos Sapountzis and Martin Boyce. In his work, he combines sculpture with contemporary producing techniques. By doing so, he uses the process as a concept why he needs to use that for his art work with cultural, historical, and social environment. And it is connected into our human recognition.
instagram :@jw_jaewonkim
website: jaewon-kim.com
Dongchan Kim (*1990 Busan in South korea , lives in Hamburg)
Currently Studying in University of Fine arts Hamburg With Simon Denny. Zeitbezogenen Medien Kunst
3D motion graphics, 3D model
Drücken mit Digitalmedien aus, dass die Technologie die Sinne ersetzen wird
instagram : @__Dchan
A performance work, 'Kim's Instant' introduces a Korean street food called Tteokbokki. Via cooking it, the process of production method of ingredient(rice cake) with historical and cultural data interweaves together. And it became a consensus of provoking fantasy, speculation, and naivity that brings people to face with how the Asian food transformed into something 'hybrid' in western society.
In addition, the objects and digital images produced by Jaewon Kim with a 3D printer contains not only reminiscent of mass-produced rice cake materials, but also an act of connecting the cooking and his sculptures. Moreover, 3D video produced by Dong-chan Kim shows the digital language and fragments used as the material of rice cake for Tteokbokki inside of digital.